I updated my library card - your activity will automatically be moved to your new library card.
How to check out titles from the Massachusetts Partner Library Networks (see below)
How to check out titles from the SAILS Enterprise online catalog.
What is the difference between the OverDrive and Libby apps?
Both Libby and OverDrive allow to you to borrow and enjoy our digital collection.
The Libby App is the newest app from OverDrive. It is easy to navigate, you are always one-tap away from your current ebook or audiobook. The Libby app also makes it easy to switch between multiple library collections and find all your loans and holds on one "shelf".
The OverDrive app is the "classic app", and includes some features that are not yet available in the Libby app, such as streaming video, recommendations, as well as compatibility with Kindle Fire, mp3 players, and screen readers.
What is OverDrive? How do I borrow an item from OverDrive?
For instructions on how to download or stream your digital loan, including how to send to a Kindle reader, visit OverDrive Help or Libby App Help.
In September, Overdrive discontinued its Overdrive app for the Mac so that users can no longer download audiobooks and have to stream them through the browser. . Here are instructions for downloading audiobooks to any Mac that has not yet upgraded to the Catalina operating system. Users can still download EPUBS as usual.
What is a Partner Library?
How do I borrow an ebook or audiobook from a partner library?
To get started:
1. Find or add a partner library network from either:
-Our Digital Collection website (SAILS.overdrive.com): Click on Partner Libraries
-Libby App: Select Add a Library and search for a partner Massachusetts library network
2. Sign in as a SAILS Library Patron with your SAILS card number & password (PIN).
3. Enjoy! Borrow and request from our neighbors' library collections.
Digital Collection Website (OverDrive):
Click on Partner Libraries at the top menu of the page. Click on a library network name to visit their digital library.
Sign in to borrow a title. Select SAILS Library Patrons from the drop-down menu, then sign with your SAILS library card number and password (PIN).
Libby App:
To find and switch between collections, tap

in the top right corner. Select Add A Library.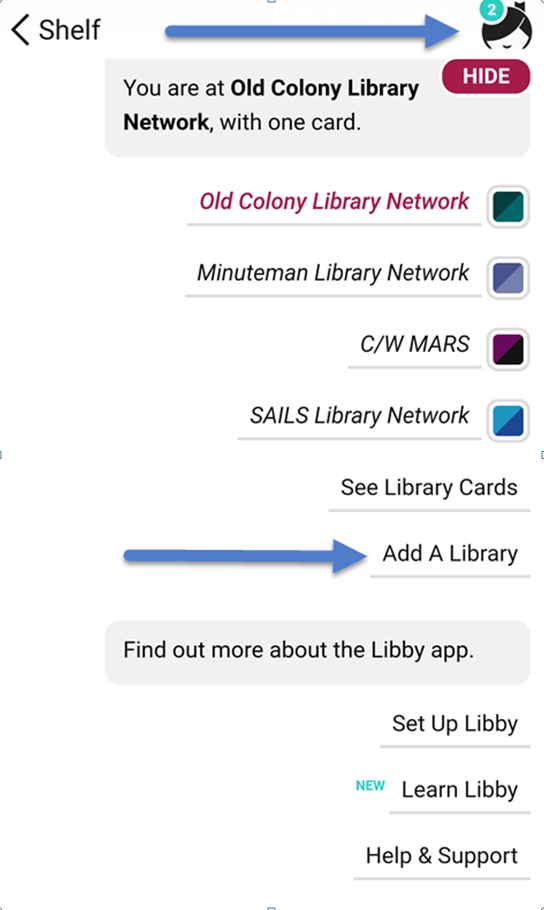 Search for a Partner Library (Boston Public Library, CLAMS, CW MARS, Minuteman, NOBLE, or OCLN).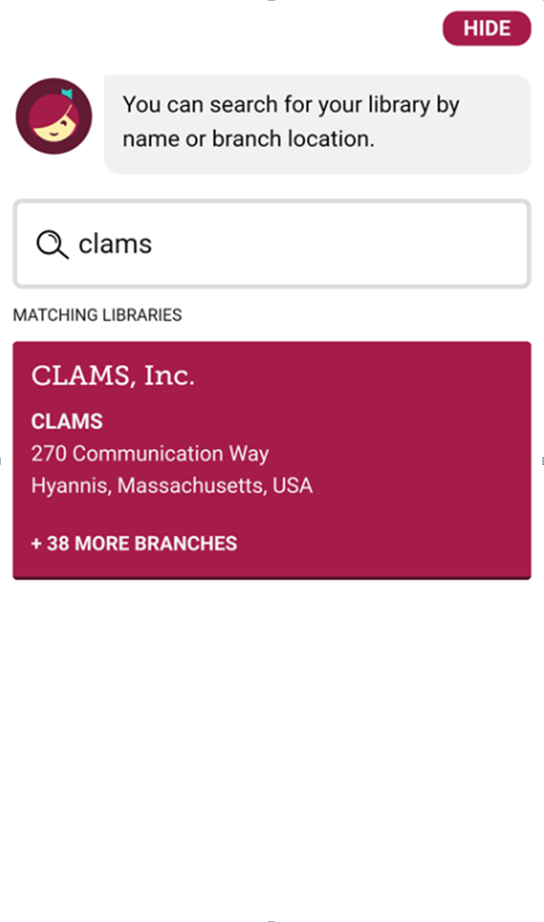 Click on the library network name to visit their digital library.
Scroll down until you find this: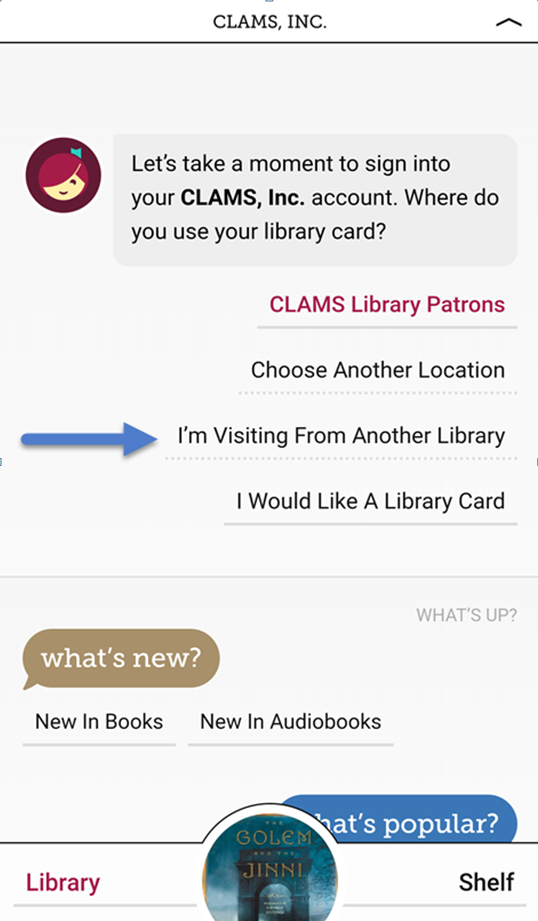 Sign in to borrow a title. To sign in, select I'm Visiting From Another Library and choose SAILS Library Network. Enter your SAILS library card number and password (PIN).
Who do I contact for help with OverDrive or Libby?
Visit help.overdrive.com for instructions and training videos, as well as info about device compatibility and troubleshooting.
For help with the Libby, visit help.libby.com or tap

to open the Libby menu. At the bottom of the menu, find tips and tutorials under "Learn Libby" or help under "Help & Support."
If you need further assistance, contact a library using this form.
How do I see all my digital loans and holds from all partner libraries?
In the Libby app, all of your digital loans, holds, and tags are accessible on your Shelf.
The lending library network of each hold or loan is marked by a square with their brand colors.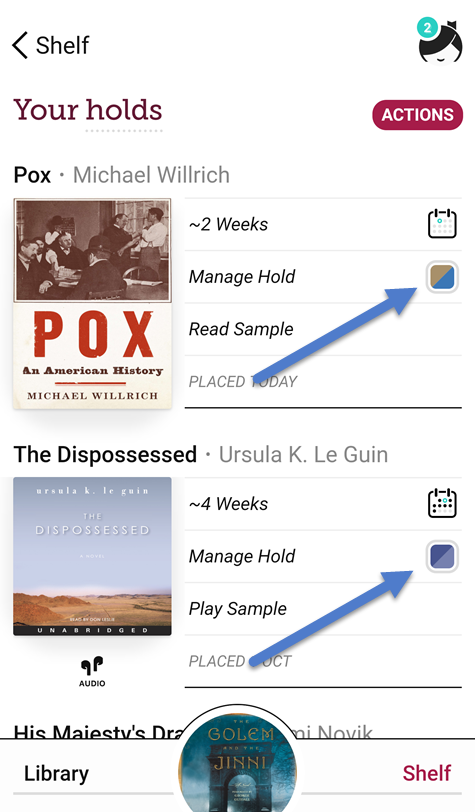 Note: You need to sign-in and save a library card in the Libby app at each library network for your loans & holds from that network to display. If you borrowed an item from a library's digital collection website (OverDrive) and it is not appearing on your shelf, confirm that you have added that library in Libby.
I'm trying to borrow an item from a partner library, but I get an error message when I try to sign in.
To borrow from other Massachusetts partner libraries with your home (SAILS) library card, be sure to choose "SAILS Library Patrons" from the drop-down menu whenever you sign in. (In the Libby App, first choose "I'm Visiting From Another Library".)
If you try to sign in as another library's patron, you will receive an error message such as "Library Server Message- Invalid Library Card" or "Library Server Message- Request Record Not Found".
If you need assistance signing in, contact a library with this form.
Do my checkout settings (loan period, auto-checkout, etc) apply to all loans in Libby and OverDrive?
Different libraries have different default loan settings, so you will need to set your preferences for each partner library network. Also, preferences need to be set separately in the Libby app and OverDrive.
To change your settings for loans and holds:
In each partner library's OverDrive collection: Sign in with your SAILS library card and password. Go to My Account and select Settings.
In the Libby App: See these instructions to change default loan period and holds settings.
Thank you to the Minuteman Library Network for their work on creating the initial version of these help files.
---
What are the lending policies for Overdrive titles?
SAILS digital titles can be checked out for 7, 14, or 21 days, with 7 as the default lending period. The only exceptions are picture books, and streaming video titles, which have 3, 5, or 7 day loan periods, with 5 as the default. There can be 6 titles checked out at a time, and 10 titles on hold.